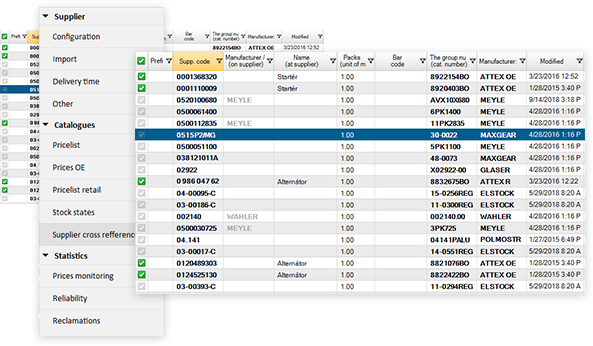 IOS – supplier data management
Service that allows you to hand over the supplier's data management to our specialized department.
As part of vendor data management, we have developed unique technologies that today can comprehensively automate the preparation and standardization of supplier's data and even predict how new data should be processed.
More than 50 significant European suppliers
More than 10 mil. of unique product cards
More than 15 mil.supplier product cards
Online stock state check for more than 8 mil. cards
Info: Only AA (Aftermarket) numbers are listed in this report, and there are no original numbers (OEs) that we have many more.
Offer products from suppliers, with conversion to standardized codes
Your pricelists from Your suppliers
Stock states of all branches from suppliers
EANs
Replacements
OE numbers
Surcharges (return parts)
Bonus program information (chosen suppliers)
Additional manufacturer references not listed in the TecDOC catalog
Additional catalog reference for identification by VIN
INTRASTAT data (customs codes, weights, origin coutries)
Universal parts (chosen suppliers)
Language mutations of product names
Data synchronization settings
EDI interface settings