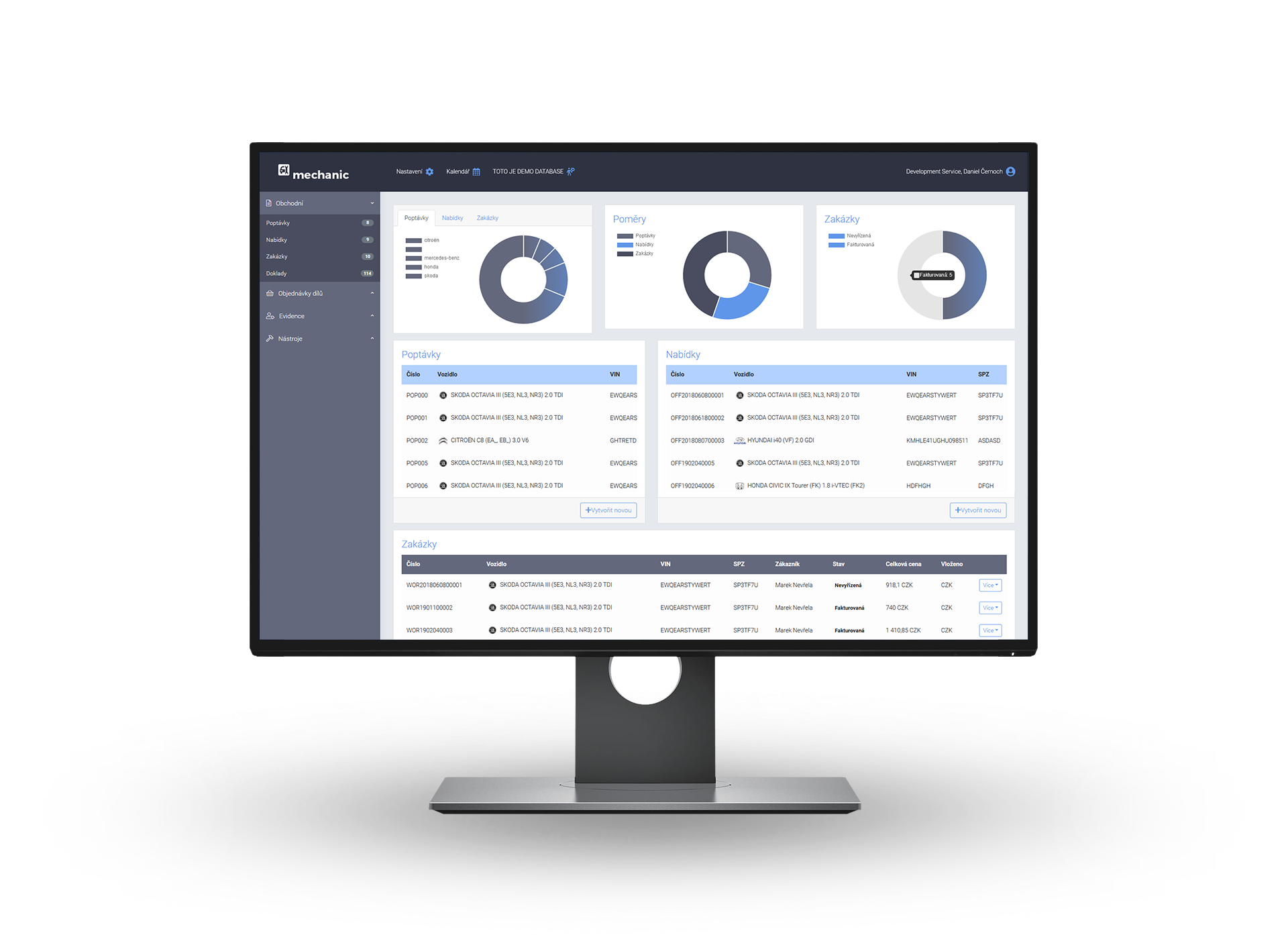 If you provide small or medium service, then this program MECHANIC is the right solution for you. The mechanic is a really simple and intuitive program, which allows you a comfortable and precise agenda leading od your service.
It will help you keep the overview and provides your customers' professional utility. At the same time the Mechanic program don does not need any installation and everything takes place in well-known web browser environment
Complete guidance and order administration of your service ( inquiry, offers, orders, documents)
The option of online article incomes from supported suppliers
Service data and repair instructions(may be paid)
Dispatch of all documents by email
The option of online ordering from supported providers
Simple warehouse evidence
Customer and their vehicles evidence
Planning of orders, mechanic and workrooms in calendar
Integrated support for EET
Order calculation with the usage of labor time
Mechanic evidence with work assessment
Assessment of mechanics hours worked
Mechanic is in the basic version for service completely FREE and so it will remain in the future. There is a charge for the data of each service provider, and some extra modules may be charged for their suppliers (such as service data, vehicle part search, and similar)
How can I get the Mechanic?
Just register at mechanic.nextis.cz and you can start working immediately. In addition, if you have received a registration code from your favorite supplier, you will have that supplier immediately available as part of the Mechanic program.
Who is the Mechanic provider?
Mechanic is the provider of Nextis, a long-term leader in providing solutions for auto parts dealers. This also gives you the guarantee that your data is safe and that the product will not end after some time due to "unexpected" circumstances. Everything Nextis does is in full compliance with the European Commission's Data Protection Regulation, known as GDPR.
Support is provided by Nextis via mechanic@nextis.cz. Due to the price of the product, support is currently limited to dealing with potential emergencies, however, your feedbacks are always welcome.
How do we care about the security of your data?
Everything we do is fully compliant with the European Commission's Data Protection Regulation, known as GDPR (more here).
All products are located and operated in our own Nextis data center.
All server technologies are regularly updated and maintained.
The technology is handled by an experienced team of professionals who have proven their qualities in data management for hundreds of small and large parts dealers.
Everything is regularly backed up to the latest data storage.
For building the data center we use only proven brands such as IBM, Lenovo, CISCO, APC.
Související odkazy:
Please, also review our             privacy policy